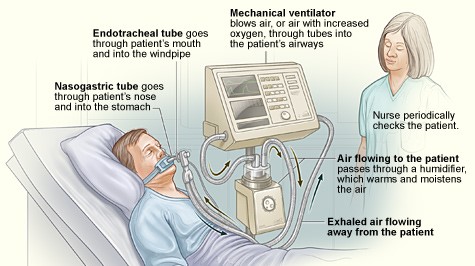 Medical data modelers are indicating the need for tens-of-thousands (or hundreds-of-thousands) of ventilators.
Gov. Cuomo has understandably been clamoring for 40,000 ventilators … just for New York.
Ventilators are being redeployed from hospitals in low virus-infected areaa to the nation's hot spots.
President Trump has emptied the national stockpile of ventilators,  enlisted corporate volunteers (e.g. Ford, GE) to produce ventilators and activated the DPA to get GM into the ventilator business.
Innovative med-tech companies  and university researchers are making ventilators using 3-D copiers.  Researchers at the University of Minnesota have designed a basic  MacGyver-like ventilator that is being prototype produced.
Sounds like a reasonable medical priority  … and impressive multi-sourced response.  I'm all in for going full throttle on ventilators.
That said, I'm curious …
The implied underlying assumption is that ventilators will save a lot of lives.
Is that a valid assumption?
=============
The underlying assumption re: ventilators begs some fundamental questions:
Do COVID-19 patients who are put on ventilators recover or die?
Do the ventilators restore patients to their pre-coronavirus state-of-health or just prolong the inevitable for a few days?
Do "recovered" patients have lasting debilitating effects when they come off the ventilator? That is, are they more death-likely when released?
I've been mulling these questions for the past week, but dared not raise them.
But, I caught a couple of red flags in the past couple of days…
=============
First, an interview an NYC emergency room doc.
He was asked a soft-ball question: "Would you walk us through a typical patient's treatment?"
Paraphrasing his answer: "Remember we're getting patients who have tested positive and are already presenting respiratory symptoms.  We give them oxygen and if that doesn't work, we put them on a ventilator."
Question: "Then what?"
"Most of them don't make it.  Then we repeat the cycle with another patient. It's discouraging."
Side note: When asked "how do you protect yourself?". the doc replied that he was taking Hydroxychloroquine as a prophylactic.
==============
Second, I spotted a snippet in the WSJ article sub-titled What scientists know so far about how Covid-19 progresses inside the body :
Matthew Arentz, a pulmonary and critical care doctor, published a study in JAMA  of the first 21 critically ill Covid-19 patients in the U.S.

Most of the patients were from nursing facilities with an average age of 70-years-old and most had chronic medical conditions.

84% required mechanical ventilation and only four people survived.
==============
Third,  according to Politico, New York's ventilator guidelines, which were developed for flu but applicable for Covid-19, are nearly 300 pages. In essence, they say that to save the most lives "patients for whom ventilator therapy would most likely be lifesaving are prioritized."
That innocuous sounding policy principle recognizes that ventilators aren't miracle cures; some people  stay on a ventilator for weeks and still die.
=============
Fourth, I scanned some medical literature.
The bottom line:  Studies done pre-coronavirus indicate that the survival rate for critically ill ventilator patients averages about 55% … with wide variability based on age and co-morbidity factors.
Source: Life-Sustaining Technologies and the Elderly
=============
I know this sounds insensitive, and these are only anecdotes, but … before staking  a national priority on producing hundreds-of-thousands of ventilators … shouldn't we answer the basic question "Do ventilated COVID patients recover or die?"
Unlike a tough data question like "How many asymptomatic  COVID-infected people are there in the US?", the ventilator question is imminently answerable.
Scientists just have to ask the question.
Again, I say: Go full throttle on the ventilators … the upside is some saved lives – and, each life is precious … the downside is just money.
But, as Dr. Birx likes to say "the data should inform our decisions".
=============
Follow on Twitter @KenHoma
#HomaFiles