In prior posts, we've addressed how intermittent fasting can improve (and prolong) brain health.
See: Can fasting make you smarter? and Is breakfast over-rated?
A logical question is: "So, what to eat when not fasting?"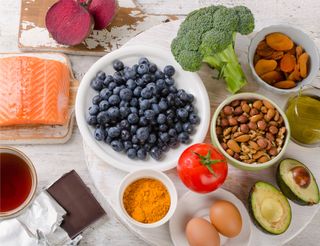 The answer: The MIND Diet.
=============
Excerpted from The MIND Diet: A Detailed Guide for Beginners …
MIND stands for the Mediterranean-DASH Intervention for Neurodegenerative Delay.
The MIND diet aims to improve and prolong brain health — i.e. slow the decline in brain health that often occurs as people get older.
It combines aspects of two very popular health-oriented diets, the Mediterranean diet and the Dietary Approaches to Stop Hypertension (DASH) diet.
Specifically, MIND combines foods from the Mediterranean and DASH diets that have been shown to benefit brain health.
For example, both the Mediterranean and DASH diets recommend eating a lot of fruit. Fruit intake has not been correlated with improved brain function, but eating berries has been.

Thus, the MIND diet encourages its followers to eat berries, but does not emphasize consuming fruit in general.
There are no set guidelines for how to follow the MIND diet.
Simply eat more of the 10 foods the diet encourages you to eat, and eat less of the five foods the diet recommends you limit.
The more you stick to the diet, the better your results may be.
But, research has shown that even loosely following the  MIND diet is associated with a reduced risk of degenerative diseases such as Alzheimer's.
In fact, in one well-reputed study, people who stuck to the MIND diet cut their risk of developing Alzheimer's disease in half.
That's prety compelling!
=============
10 foods the MIND diet encourages:
Green, leafy vegetables: Aim for six or more servings per week. This includes kale, spinach, cooked greens and salads.
All other vegetables: Try to eat another vegetable in addition to the green leafy vegetables at least once a day. It is best to choose non-starchy vegetables because they have a lot of nutrients with a low number of calories.
Berries: Eat berries at least twice a week. Although the published research only includes strawberries, you should also consume other berries like blueberries, raspberries and blackberries for their antioxidant benefits
Nuts: Try to get five servings of nuts or more each week. The creators of the MIND diet don't specify what kind of nuts to consume, but it is probably best to vary the type of nuts you eat to obtain a variety of nutrients.
Olive oil: Use olive oil as your main cooking oil. Check out this article for information about the safety of cooking with olive oil.
Whole grains: Aim for at least three servings daily. Choose whole grains like oatmeal, quinoa, brown rice, whole-wheat pasta and 100% whole-wheat bread.
Fish: Eat fish at least once a week. It is best to choose fatty fish like salmon, sardines, trout, tuna and mackerel for their high amounts of omega-3 fatty acids.
Beans: Include beans in at least four meals every week. This includes all beans, lentils and soybeans.
Poultry: Try to eat chicken or turkey at least twice a week. Note that fried chicken is not encouraged on the MIND diet.
Wine: Aim for no more than one glass daily. Both red and white wine may benefit the brain. However, much research has focused on the red wine compound resveratrol, which may help protect against Alzheimer's disease
=============
5 foods the MIND diet says to limit:
Butter and margarine: Try to eat less than 1 tablespoon (about 14 grams) daily. Instead, try using olive oil as your primary cooking fat, and dipping your bread in olive oil with herbs.
Cheese: The MIND diet recommends limiting your cheese consumption to less than once per week.
Red meat: Aim for no more than three servings each week. This includes all beef, pork, lamb and products made from these meats.
Fried food: The MIND diet highly discourages fried food, especially the kind from fast-food restaurants. Limit your consumption to less than once per week.
Pastries and sweets: This includes most of the processed junk food and desserts you can think of. Ice cream, cookies, brownies, snack cakes, donuts, candy and more. Try to limit these to no more than four times a week.
The common theme among the food to avoid: they contain saturated fats and trans fats that are associated with all sorts of diseases, including heart disease and even Alzheimer's disease.
==========
The entire Healthline summary: The MIND Diet: A Detailed Guide for Beginners is worth reading.
It provides addition detail with citations and links to the supporting research.
==========
Follow on Twitter @KenHoma
#HomaFiles